I am a professional freelance photographer dedicated to applying advanced technical aspects of capture, lighting, postproduction, and printing to compelling visual compositions.
I work to balance aesthetic appeal with science (artist vs geek). Mindful that subject and composition are paramount, I also realize the importance of being able to confidently twist cameras, lenses, and lights into whatever configuration needed to ultimately "render as visualized." This is the long way of saying I like to take great photos and I like to use all the dials, buttons, and controls on the equipment (except the ones labeled "auto") to make them.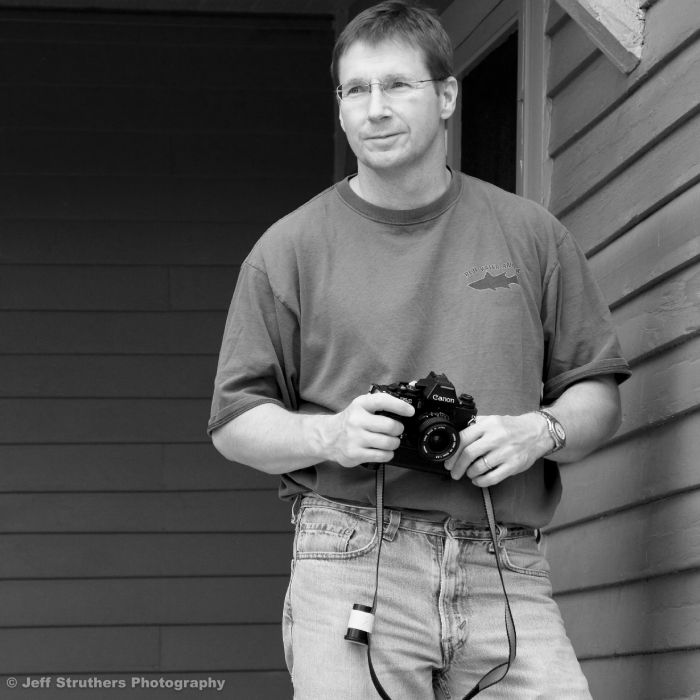 My interest in photography began when my mom purchased a Yashica 35GS camera for me from the Woolco department store in DeKalb, Illinois, in 1974, a darkroom a few months later, then a set of Time-Life photography books. It would be nice to say something deeply philosophical like "she realized a creative potential in me and wanted to give me an avenue to support it," but the truth is she just hoped it would keep me out of trouble. When I was 17 I joined the yearbook staff and was voted best high school photographer in the nation by the American Newspaper Publishers Association's Quill and Scroll organization. After reviewing my K-12 report cards and attendance records, receiving any type of academic award was certainly not what anyone would have predicted. Decades and a zillion dollars of equipment later, I still like to take pictures.
I can't define a personal style or genre. However, allowing that most of my favorite photographs were taken by Hass, Eggleston and Herzog, I guess I have a bias toward urban photography. Not getting locked into a style keeps photography fresh and interesting. I've done landscape, architecture, still life, street, portraits, and if threatened I can be talked into wedding photography. It comes down to a fascination with light, whether I find it or make it. Many of my favorite images involve a vexatious habit of returning to a scene over and over to make the image "a little better." Failed attempts over weeks, months and years to be in the right place at the right time often pass before I finally see the fleeting combination of perfect light, dramatic weather and a cooperative subject. Other images in my galleries were meticulously illuminated with strobes, reflectors, gobos, barn doors and snoots, giving me the freedom to bring out form and texture hidden from natural light. In some instances rare natural events were combined with a bit of illumination from a well-placed strobe to create a dramatic photo (see Abandoned Car & Fiery Sky).
I spend much of my time working for corporate clients. These jobs test my imagination, technical ability and patience. On some road trips I've had to wait out the weather for a week. In a few cases I've had to wait through winter before the sun would see the front of north-facing buildings on Main Streets. I've employed well-placed strobes to light up the movements of a 100-year-old clock, an old sleigh in the dark corner of a barn and old tractors in an ice field. Tilt and shift lenses are regularly required for architectural photography or to get hyper depth of field in landscape photos. I've luckily found perfect spots in busy cities to set up time exposures of colorful traffic patterns. Over the years I've walked in the woods to get pictures of mountain critters, spent hours in my basement shooting eggs with a BB gun, photographed a solar eclipse with a couple dozen strangers and had my 80-year-old rancher neighbor wonder why in the world I wanted to take pictures of the old stuff in his barn. I've irritated countless motorist by standing in the middle of a busy street to get a "downtown" shot (see Rockford - State Street at Dusk), angered a rattlesnake, and had many, many encounters with "tripod police." There are worse ways to make a living.